TRAMPOLINES
Jul 6th 2008, 7:55 pm
TRAMPOLINES
---
Hi everyone
I know this sounds a silly question but are trampolines over here made from a different material than the ones in australia because of the hot temperatures or is the one we have got ok to take with us.
Thanks in advance for any info.
Cheers
Si
Jul 6th 2008, 9:09 pm
Re: TRAMPOLINES
---
Jul 6th 2008, 10:13 pm
Re: TRAMPOLINES
---
we're taking ours
Jul 6th 2008, 10:33 pm
Re: TRAMPOLINES
---
Taking ours also.
What else are we adults going to do after a bottle or 2 of wine when the children have gone to bed??
I think the worse that can happen is the sun bleeches the colour a bit, and maybe the elastic disintergrates after a shorter while.
Jul 6th 2008, 10:42 pm
Re: TRAMPOLINES
---
Something to consider.....
If you are going into a rental be careful of where you put yours as it may stop the grass from growing underneath and stop your bond winging its way back to you once you leave!!!
Jul 7th 2008, 3:00 am
Re: TRAMPOLINES
---
Probably made of the same materials. Good point made by Sarah too......
Oh and be careful! We've got rid of ours now after 2 broken arms in under a year :0(
......our own fault as the zip had broken(2nd incident) and we'd long let the one at a time rule slip(1st incident)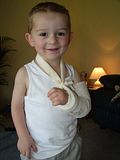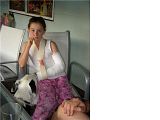 We might be getting another for Christmas as many hours of fun were had...but this time being extra careful *sigh*
Jan (Part time resident of the fracture clinic)
Jul 7th 2008, 8:27 am
Re: TRAMPOLINES
---
We just bought ours here, 8ft one for $128 at big w on sale offer...
its fab!
Jul 7th 2008, 10:27 am
Victorian Evangelist
Joined: Sep 2005
Location: Melbourne, by the beach, living the dream.
Posts: 7,675
Re: TRAMPOLINES
---
One other thing you all may like to consider is that the average suburban Australian garden is so small that there may not be room for a trampoline!!!

Ours is like that in our rental, and we have seen many many others too.

Buzzy
Jul 7th 2008, 10:52 am
Banned
Joined: Jul 2008
Posts: 30
Re: TRAMPOLINES
---
Jul 7th 2008, 11:28 am
Re: TRAMPOLINES
---
Think it would be OK but you may have to pay for special cleaning as they are 'outside' items.
Jul 7th 2008, 12:28 pm
Forum Regular
Joined: Jul 2007
Location: Sydney, Hills
Posts: 31
Re: TRAMPOLINES
---
Brought ours out here, no problems with customs even though it's not in great condition.
We're in a rental at the moment, but keep moving it around the garden
Posting Rules
You may not post new threads
You may not post replies
You may not post attachments
You may not edit your posts
---
HTML code is Off
---