Thoughts on Adelaide?
Jan 10th 2018, 10:55 am
Re: Thoughts on Adelaide?
---
Considered quiet and a backwater ("oh yeah, and Adelaide"), it's got a lot less going on than the likes of Melbourne. More a 'Southampton' than a 'Manchester'.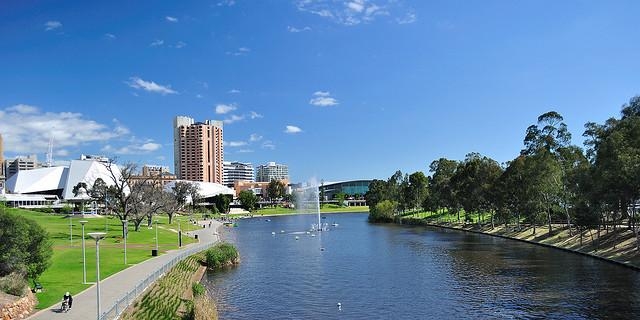 Even so there's some nice spots. CBD has its ring of parkland and it's river. The seashore is nearby to much of it, so sandy beaches. Or there's the hills for more wooded/views.
North and North East is generally considered 'best avoided'.
There's probably enough around to keep a family happy, but young singles - not so much. You can fly to other SE cities easy enough (or drive, I've done that).
Jan 10th 2018, 11:36 am
BE Forum Addict
Joined: Jan 2017
Posts: 1,754
Re: Thoughts on Adelaide?
---
It's quite pleasant. It is one of only five cities here that have a population of one million or more.

There are a number of things you can do if you are outdoorsy.

The CBD is pleasant. Adelaide is known as the "City of Churches." South Australia is the only colony that wasn't set up for convicts.

Quite a lot of nice seashore not far out of town. Barossa Valley (probably Australia's most famous wine region) is just 90 minutes away.

It is an afterthought in Australia, after Sydney-Melbourne-Brisbane-Perth (in that order).

If I remember from another thread, this is where your job is going to be. Congratulations. Adelaide is quite pleasant, if not flash, and you could do a lot worse.
Jan 16th 2018, 7:50 am
Re: Thoughts on Adelaide?
---
What do you want to know?
There is more to Adelaide than meets the eye. It's Australia's best kept secret IMO and would like it to stay that way
It is a small, compact city, with some stunning architecture and lovely parklands. The river precinct is undergoing a huge transformation and is beautiful, with the fantastic Adelaide Oval just the other side of the river.
The suburbs vary greatly. The western suburbs and eastern suburbs are probably among the most sought after, as well as North Adelaide, but these also come at a price. Just 30 mins out of the city in most directions you will be in more affordable areas. North East (Elizabeth etc) are a less popular area.
Adelaide is a city of festivals. Tour Down Under is currently on and the Adelaide Fringe will be starting soon, as well as the myriad of events that happen throughout the year. The laneways are being revitalised with new eateries and bars and the wineries that surround Adelaide (Barossa, Adelaide Hills, McLaren Vale) have really picked up the game with events, fabulous food offerings, boutique beers etc. You could easily do a different wine tour every weekend of the year and not see them all.
There are a variety of different beaches, from stunning white sandy beaches, to rocky, stony, pebbly beaches, and not forgetting the very first nudist beach at the stunning Maslin Beach. Kangaroo Island is a fabulous holiday destination and I thoroughly recommend it if you like peace, nature, wine and food
The bad. Some say the economy is in poor shape, but I don't see too much evidence of that. However, I work in Retirement Living which is SA's biggest growth industry. There has been a lot of investment in the state, both govt (though not enough) and corporate, and there is more to come in the next few years. Politics - pretty much the same everywhere you go. Finding a job can be problematic. We have been lucky in that OH already had a job to come to and I got a job within a month of starting to look. But there are plenty of jobs out there - seek.com.au, careerone.com.au, jobsearch.com.au and even LinkedIn show plenty of jobs. you can also register with some of the larger organisations - SA Health, UniSa, Uni of Adelaide etc and there are plenty of agencies to register with.
If you want to know anything else, just let me know.
Posting Rules
You may not post new threads
You may not post replies
You may not post attachments
You may not edit your posts
---
HTML code is Off
---