NCR llockdown
Mar 6th 2023, 11:59 pm
BE Forum Addict
Joined: Jan 2015
Posts: 2,229
Re: NCR llockdown
---
Weekly Report
The DOH said last week there were 913 cases (832). A 10% increase.
Note: my daily monitoring as well as Worldometers has 915.
A somewhat worse result if you compare the "next day adjustments": 850 (710). A 20% increase.
The increase in infections is also shown in the % change in infections over the last 14 days:
NCR +3
Dav -3
4A +18
WV +1
SOCC +47
A large increase in the SOCCSK region although Davao improved to show a small decrease from a large increase last week.
Region 4A showed a big reverse over last week to a large increase. The NCR a smaller reverse to a small increase.
Of some concern only for the medium term as hospital utilization indicates below:
Deaths 56 (78)
10 Feb
1 March 2022 back to 1 Nov 2020.
New admissions 0 (3)
Admitted 395 (406)
ICU 13.3% (14.8%)
Non ICU 16.8% (18.9%)
Philippine Excess Deaths
SS presented regional breakdowns of Philippine excess deaths. You may remember they are very high, at 43%.
See my post on Feb 26.
https://supersally.substack.com/
For the year 2020, when vaccinations started, there are only a few regions which show significant increases on the base year 2019. The NCR was up 7%. The exception being BARMM with a whopping 58% increase.
For 2021 I divided the regions into above and below average groups:
Above Average
Cagayan 60
CL 58
Ilocos 56
WV 55
CAR 55
NM 54
Zam 50
4A 46
Caraga 46
Bic 45
BARMM 44
Below Average
SOCCSK 40
CV 39
Dav 39
EV 37
NCR 25
From these figures and the graphs by time SS hints as usual that covid vaccinations have a lot to do with these figures.
But what about the provision of health care? That's certainly the best in the NCR, which had the lowest figure.
Then the top 5 for Excess Deaths regions all have below average hospital beds per 1k population. (Caution: Figures are from 2008), The next region NM though did have an above average hospital bed provision. Then the next 4 regions, Zamboanga to 4A , all had below average hospital beds.
Was unable to get 2008 regional hospital bed numbers for Mindanao regions. But CV did have slightly below average provision. The NCR had a provision per 1k more than twice the Philippine average then of 1.04.
Of course many factors could explain the high Excess Deaths figures but this seems to suggest it has a lot more to do with the health effects of the Pandemic, both direct and indirect, than the vaccination roll out. People were dying much more because of poor health care.
Some evidence for this is given in a recent video from Dr Susan Oliver:
A rebuttle of Dr Campbell's shared video with Norman Fenton. Where they try to show that the ONS cannot conclude that covid vaccination is safe and effective. She seems to find important statistical errors in Fenton's analysis. Whether they are enough to dispute the ONS's conclusion I am unsure at first reading and will await any reply from Fenton. Though as you can see Dr Oliver gets far fewer viewers and publicity than does Campbell, so maybe that will not be forthcoming. What is 100% clear is that Dr Campbell did not tell his viewers that the long delay for the ONS report on vaccination status to be updated was for valid statistical reasons and not to hide bad news, as he hinted it may well be.
As part of her argument Dr Oliver gives these charts from recent studies on illness post covid:
From a study in Nature published a year ago.
Purple excess burdens substantial.
From a study very recently published in a US cardiology journal. MACE stands for Major Adverse Cardiological Events.
Dr Oliver has fun showing Campbell is well aware of the rise in the number of these events.
How does the timing look?
From Our world in Data.
Excess deaths reach a high peak in Sep 2021, the fall back steeply over the rest of the year.
The vaccination program grew steadily through 2021.
If as the anti vaxxers claim excess deaths are a direct result of the vaccinations why the sharp reduction at the end of 2021?
They also specifically implicate mRNA vaccines. Yet the Philippines used a lower proportion of those than many other major vaccinating countries...about 75%.
---
Last edited by Raffin; Mar 7th 2023 at

12:27 am

.
Mar 11th 2023, 11:38 pm
BE Forum Addict
Joined: Jan 2015
Posts: 2,229
Re: NCR llockdown
---
A newsletter from SS on Taiwan births and deaths data reminded me to update on E and SE Asia covid from Worldometers.
Taiwan data is produced quickly and recognized as of good quality. I will only look at deaths here.
For free SS newsletters:
https://supersally.substack.com/
All SE and E Asian countries now showing well established downward trends for covid cases and deaths.
As usual SS tries hard to link Taiwan's data to the timing of vaccinations there:
SS shows monthly all cause deaths for Taiwan in 2022 were nearly always above those for 2020 and 2019 throughout the year. 2023 deaths also starting much higher.
As a result excess deaths from OWiD for Taiwan mostly showing much later than for most other countries.
Taiwan was unusual, even compared to its neighbours, with very few covid deaths showing until 2022.
Data form Worldometers.
Note: For some reason OWiD do not show covid death data for Taiwan.
So that 2022 deaths are well above those for 2020 and 2019 is not surprising.
There were about 172k deaths in Taiwan in 2022. About 144k in 2020.
Worldometers reports 18,473 covid deaths there to date in the Pandemic. There were some covid deaths in 2021 and if we add them to those which have occurred so far this year we can say that for 2022 Taiwan covid deaths were still at least 18,000.
So roughly speaking 18k out of the 28k difference in deaths between 2022 and 2020 can be attributed to covid. And this is without looking at those deaths which are only likely to have covid as the underlying cause. Though it is possible that the remaining less than 40% difference can be seen by some to have a temporal link to vaccination.Taiwan's good vaccination data does encourage those who see it as a main cause of fatality and illness:
A late vaccination effort in 2021. But now 87% of the population has had two doses. The high peak in early 2022 was the start of the booster roll out.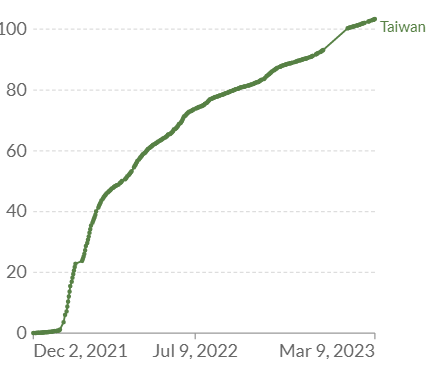 Taiwan now with almost everyone boosted...unlike the Philippines!
Despite the high vaccination rate Taiwan has had a relatively high covid death rate compared to two other countries in the region which have had a similar experience with covid:
Cases/M Deaths/M
South Korea 597k 664
Japan 265k 583
Taiwan 425k 773
It's difficult to find much about Taiwan's covid policies. But the country was widely admired for it's early success in keeping fatalities very low in 2021.
The same can be said for Japan and S Korea:
Japan covid deaths
South Korea covid deaths
For comparison: Philippine were deaths far greater in 2021 and official figures very likely greatly under recorded.
On Taiwan's covid policies it seems to have avoided mass lockdowns. As a result Its economy was not affected much. Except by a strict quarantine policy and restrictions on international travel. It's masking policy was moderate. Testing was easily available. Worldometers reports the island state had done 1.3M tests per M. Far higher than Japan, S Korea and the Philippines achieved..
Taiwan's 2022 covid deaths can be explained by a lack of immunity from less infection in 2021 and 2020. Also by some early relaxation in measures. But it seems we cannot explain the somewhat higher Taiwan non covid deaths in 2022 so much by the effects of lockdown as we might in some other countries.
To bend over backwards to be fair to those who suspect vaccinations were a big explanation we can note that Taiwan used the AZ vaccine, which seems to have a worse safety record.
For more detail on Taiwan covid policies see:
https://en.wikipedia.org/wiki/COVID-...emic_in_Taiwan
.
Dr John finds more support for his campaign for using aspiration when vaccinating in this recent interview with a M. Girarrdot.
Warning: Marc Girardot has no medical qualifications at all. They are in economics and business! But some issues of concern are raised and he gives the impression of knowing what he is talking about. Though we must be aware that Dr Campbell's scientific and medical knowledge only goes so far and he has an incentive to interview him to further his campaign for aspiration.
---
Last edited by Raffin; Mar 11th 2023 at

11:57 pm

.
Mar 14th 2023, 11:47 pm
BE Forum Addict
Joined: Jan 2015
Posts: 2,229
Re: NCR llockdown
---
Weekly Report
The DOH have 983 daily cases (913). A 7% increase.
Their next day adjustments show a slightly lower 6% increase.
Top 5 last 14 days cases over the last week.
NCR +14% (+3%)
Davao +11 (-3)
4A -5 (+18)
SOCCSK +34 (+47)
NM +25
All regions except 4A showing increases.
Looks like an upturn in infection.
We should expect this. The UK has a much higher infection rate, estimated by the ONS at 1 in 40 in England.
From the ZOE App a similar picture:
Deaths 58 (56)
This week no deaths from 2023.
All from Mar 2022 back to March 2021....including 13 from Sep 2021.
Hospitals
New patients 1 (0)
Admitted 351 (395)
ICU 13.4% (13.3%)
Non ICU 17.1% (16.8%)
Recent improvements turn into a slight worsening. Though at low levels of hospital utilization.
Bivalent Boosters
The DOH now saying they will come next month, not this as they originally said:
https://news.abs-cbn.com/news/03/14/...-bivalent-jabs
From his past statements it seems that BBM is not enthusiastic about continuing covid vaccination here. But as this is a small and donated addition he may approve it. But will the DOH find it easy to sell them? There is a low level of infection here. And the DOH say they are restricting them to people who have already had an out dated monovalent booster. Presumably as they still have large stocks of them. About 21M people in total have already had a monovalent jab.. But the new vaccines will be restricted to those in that total who are health workers, seniors and those with comorbidities.
A few days ago Dr Campbell reported on the UK Bivalent booster program:
There at least 6 months, not 4, after previous dose
SS's latest newsletter reports on the latest Philippines report on Vaccine effects:
Deaths went up to 2,801. Five deaths added since their report last month
No admission that any were due to the vaccine.
For more details:
https://supersally.substack.com/
The German health minister revised his earlier statements about the safety of covid vaccines: I in 10,000 he now says.
https://expose-news.com/2023/03/14/g...accine-injury/
Much higher estimates of serious vaccine effects are around. An American businessman says 1 in 100!
Mar 17th 2023, 11:16 pm
BE Forum Addict
Joined: Jan 2015
Posts: 2,229
Re: NCR llockdown
---
Dr John Campbell presents another speech by Independent MP Andrew Bridgen to another nearly empty House of Commons chamber on March 17. Worth listening to.
In it he mentions the 1 in 800 average risk estimate of mMRA adverse effects. Which Dr Campbell has also talked about and was reviewed here. Though we should be aware of the great uncertainty with such estimates. Gives a cost benefit analysis and concludes that another UK booster is not worth giving, even for older and compromised older recipients.
Alternative link for the video of Bridgen's speech:
ANDREW BRIDGEN MP, EFFICACY OF THE MRNA COVID BOOSTER, 17 MARCH 2023, FULL ADDRESS TO PARLIAMENT – Philosophers Stone
Look online and you will see Bridgen had some help with his speech from a group, described by those disagreeing with him as "anti woke" and "anti vaxx".
Mar 19th 2023, 11:05 pm
BE Forum Addict
Joined: Jan 2015
Posts: 2,229
Re: NCR llockdown
---
Covid 19 origin
New genetic evidence further supports that is was from infected animals sold at the Wuhan market
https://www.theguardian.com/society/...an-market-data
You may be wondering about the animals that were previously being sold at the market.
This article describes what a team of researchers found in early 2021. Retrospective as the market had by then been closed for 4 months.
https://www.nature.com/articles/s41598-021-91470-2
Interestingly it says that Racoon Dogs were selling at a lower price than previously (15-20 USD/kg) for eating as fur prices had dropped. Still, expensive meat which could not be afforded by most people in Wuhan.
Mar 20th 2023, 8:06 pm
BE Forum Addict
Joined: Jan 2015
Posts: 2,229
Re: NCR llockdown
---
Weekly Report
Last week in brackets.
The DOH daily reports at 1,171 (983). A 19% increase compared to a 7% increase last week.
Looking at their next day adjustments (which seem to have been lower and always less than the original last week) there was a 21% (6%) increase.at 1088 (903).
Testing went down slightly last week to about 6.9k (7.1k).
Active cases at 9.3k.
Top 5 Regional cases last 14 days
NCR +20% (+14%)
Davao +12 (+11)
4A +10 (-5)
SOCCSK +19 (+34)
NM +25 (+40)
So infections showing a significant upward trend. Especially in the NCR and parts of Mindanao.
Deaths 63 (58)
Again, no recent deaths.
None from the last 2 weeks.
Back to Jan 2021.
Hospital utilization:
New cases 6 (1)
Admitted 368 (351)
ICU cases 13.3% (13.4%)
Non ICU beds 17.0% (17.1%)
A further slight worsening.
Though still a low level of utilization.
Two interesting survey reports form SWS:
Actually its 87% who are worried at least a little now That hasn't changed much over the Pandemic years.Probably one reason, along with the young population, why the Philippines did not have a large covid outbreak.
Reasons for their unwillingness were not asked for. Though as shown in the first survey obviously not due to a low fear of catching covid.
Rappler was the only online news outlet to report on this SWS survey:
https://www.rappler.com/nation/most-...december-2022/
Mar 21st 2023, 10:44 pm
BE Forum Addict
Joined: Jan 2015
Posts: 2,229
Re: NCR llockdown
---
Just some more evidence from OCTA on where covid cases are back on the rise here:
A small rise in NCR positivity and n some of the areas adjacent to the NCR. Larger rises and much higher positivity in two areas of Mindanao.
In another tweet on March 18 Aklan and Camarines Sur stood out with positivities of 18.8% and 10.4%. Oriental Mindoro up to 3.8%.
Mar 22nd 2023, 11:14 pm
BE Forum Addict
Joined: Jan 2015
Posts: 2,229
Re: NCR llockdown
---
A correlation analysis of all EU countries plus 4 others. Vaccination uptake and excess all cause mortality. Not peer reviewed
The paper can be downloaded from here:
https://www.preprints.org/manuscript/202302.0350/v1
It's fairly readable. Here is the abstract:
Looks good until you observe that the lowest 7 countries for vaccine uptake were all in E Europe...Bulgaria, Romania etc Potential bias there as health data is surely much less reliable in E Europe than in W Europe?
The UK government has blamed delayed diagnosis and medical treatment for the excess deaths there (although the UK as not now an EU member was not included in this study). The authors say on this:
They cannot see any differences in delayed diagnosis and Dr Campbell in his video is happy to accept this in his video.
Seems to me that is not believable as there are likely to have been large differences as to how diagnoses and treatment during the Pandemic were managed between the 31 countries.
As to another explanation for excess mortality.....covid19...Dr Campbell is keen to dismiss it. He again cites an Israeli study which he says shows that covid was not linked with myo/pericarditis:
But Dr Susan Oliver 4 months ago posted a video which pointed out that the study confined itself to people who had recovered from covid. She then presented a paper in Nature which showed there is a link between covid and myo/pericarditis.
This shows that D Campbell again presenting misleading information to push his beliefs. Dr Susan Oliver is known to him as someone he has been in contact with and who has followed up on his videos with those of her own. Not believable he does not know of her videos.
Mar 23rd 2023, 12:57 am
BE Enthusiast
Joined: Feb 2014
Location: Marikina Philippines
Posts: 816
Re: NCR llockdown
---
The face mask wearing mandate is slowly eroding. Manila Airport, NAIA have announced that the wearing of facemarks within the Terminals is now optional. However it remains mandatory to wear facemarks when being transported by bus to aircraft and when onboard aircraft. I understand that Philippine carriers are alone in requiring the wearing facemarks.
The minions in power seem to be reluctant to divest control.
Mar 26th 2023, 11:11 pm
BE Forum Addict
Joined: Jan 2015
Posts: 2,229
Re: NCR llockdown
---
Dr Susan Oliver comprehensively covers all the main issues in the Lab Leak vs animal to human covid origin debate following the recent US agency findings in a new video yesterday.
Match of animal genetic material and covid showing almost exclusively in the live animal section.
The great majority of matches in Racoon Dogs.
Apart from that she reviews some assertions of Lab leak theory proponents. Provides a link to a video she made last year on those.
Mar 27th 2023, 1:56 am
BE Enthusiast
Joined: Feb 2014
Location: Marikina Philippines
Posts: 816
Re: NCR llockdown
---
Now that the daily declared new cases shown on the Worldometer site are hovering around the 200 mark I wonder if more attention should now be given into preventing pneumonia.
Mar 27th 2023, 3:17 am
BE Forum Addict
Joined: Jan 2015
Posts: 2,229
Re: NCR llockdown
---
Yes, around 200 a day, but again up on the previous week.
Pneumonia has many causes. One is the coronavirus SARS 2 so worth keeping up those measures which can help but not make life difficult for people when it is not now an emergency..
Another viral cause of Pneumonia is influenza. I had a look at the DOH site and so far this year it's up 84% on the start of 2022.
Bacterial caused pneumonia can be prevented or mitigated by hygiene but in many cases it is caused by certain bacteria living inside us which cause disease when immunity is down. So all the lessons of hygiene from the covid time still relevant. But immunity was not something you heard much about here during the Pandemic, though there is awareness in other countries.
Influenza is not included as a vaccine preventable disease in the DOH report. (Nor is covid!) Maybe for budgetary reasons flu vaccination is not made freely available. Measles-Rubella is and cases are up 5 times over 2022.
Other big increases:
Dengue up 85%
Acute Diarrhea up 94%
Leptospirosis doubled.
So many diseases up. Only Typhoid wasn't. The DOH can do something but limited as for some diseases vaccinations were not given.
---
Last edited by Raffin; Mar 27th 2023 at

3:27 am

.
Mar 28th 2023, 4:45 am
BE Forum Addict
Joined: Jan 2015
Posts: 2,229
Re: NCR llockdown
---
Weekly Report
DOH announced cases last week 1,298(1,171). An 11% increase. Last week a 19% increase.
When next day adjustments are taken into account 1,189 (1,088)..a 10% (21%) increase.
The DOH covid case reporting system seems to have settled down with small downward adjustments each day.
Regionally over the last 14 days the % increases were:
NCR 20 (20)
Davao 6 (12)
4A 12 (10)
SOCCSK 2 (14)
NM 58 (40)
Taking a longer view increases continue in the NCR and 4A, while some slowing in Mindanao, except for NM.
Case increase slowed last week.
Deaths 60 (63)
Again none recent.
! in November, 1 in October.
The rest back to June 2020.
DOH say 8.6k cases still active. This is seen as far too high by some commentators alleging many cases have been resolved and that has not been reported.
Hospital data:
New cases 10 (6)
Admitted 307 (368)
ICU 14.0% (13.3%)
Non ICU 16.5% (17.0%)
A mixed picture at low primary health utilization.
Anders Tegnell was Sweden;s state epidemiologist until March 2022.
Dr Campbell reviewing a Daily Telegraph article on how well Sweden has dealt with covid without a hard lockdown. The newspaper has a record of favouring the Swedish approach and criticising Britain relying on a model developed at Imperial College, London. Unless you subscribe you can't read the article.
BUT: Caution is needed with most Dr Campbell videos these days!
Deaths/M covid (Worldometers).
Sweden 2,331
Finland 1,625
Denmark 1,433
Norway 946
So Sweden's deaths far higher than in the other Nordic countries. Yes, the UK had 3,057....but can we meaningfully compare these countries to the UK? The largest of them in population is Sweden with only 10M. They are mostly sparsely populated and people there have a high level of civic mindfulness.
Vaccination levels were high in all of them. Denmark and Norway had substantial lockdowns, Finland's were less severe.
How did these Nordic country's deaths/M vary through time in the Pandemic?
Deaths/M from Our World in Data.
During the UK lock owns March 2020 to March 2021 the UK had two large death spikes. But as can be seen above so did Sweden, though to a lesser extent.
As Dr John says in the video the fear of Dr Neil Ferguson (the UK government's coronavirus adviser back then) from modelling was the country would end up with 510,000 deaths. To date deaths are 210,000. Did lock down save the UK from a doubling of deaths? It likely did give the NHS time to prepare.
But in the video Dr Campbell strongly hints he has a good explanation for the early Swedish spikes to do with the use of drugs and oxygen in hospital. He will tell us all later but I guess it rests on what he was told by one Swedish doctor 2 years ago about a directive not to treat people over 60 with certain risk factors in hospital:
Also notice Swedish deaths/M have also been higher recently. Again Dr Campbell says he will explain that later on. Notice too that Finland's deaths/M also peaked at a high level a few months ago for even longer. Will he cite natural immunity as the reason? Cases per M in the Nordic countries were somewhat lower than in the UK.
Perhaps Dr Campbell's explanations of the overall poor Swedish covid mortality record will be convincing? Perhaps the mild lock down there will eventually be seen to have been beneficial overall. But that probably awaits a more expert analysis than can be got from Dr Campbell and The Daily telegraph.
Vitamin D
Dr Philip McMillan looks at a paper carrying out a meta analysis on the role of vitamin D in treating acute covid patients. Concludng it is beneficial with severe illness. Though gives no conclusion on it preventing death. The diagram suggests that Vit D deficiency is commonly found when testing. He goes on to cite another paper saying that vit D protects cells from covid virus invasion.
Dr Seheult of Medcram also presented a recent video on vitamin D in the form of a case study of a young patient with long covid. The girl had a dehiciency. SARS covid 2 virus had damaged cells in her lower intestine. He discusses some possible useful interventions involving vit D and vaccination for treating long covid.
In a previous video Dr Seheult explained why vitamin D does not always protect against covid. Getting enough daily sunlight is most important.
Also on Vit D:
Dr Susan Oliver reviewed Vit D well in a video posted last year.
SS has posted recently on yet another possible link to the Pandemic, Whether lock down, school closures, masking or vaccination hav anything to do with the recent rise in autism seen in the US.
Of course she thinks all of above factors were implicated!
For free subscription to her newsletters:
https://supersally.substack.com/
Mar 31st 2023, 12:12 am
BE Forum Addict
Joined: Jan 2015
Posts: 2,229
Re: NCR llockdown
---
Dr John Campbell presents the latest ZOE
covid symptom data in the UK.
ZOE estimate is covid infections 1 in 40 in
England and Wales.
Latest ZOE symptoms.
Compare with the ZOE results in July 2022:
Sore Throat 58%
Headache 49%
Blocked Nose 40%
Cough no phlegm 40%
Runny Nose 40%
Cough with phlegm 37%
Sneezing 32%
Fatigue 27%
Muscle Aches 25%
Blocked Nose up 12%
Dry Cough up 9%
Runny Nose up 14%
Sneezing up 18%
Fatigue down 7%
Dr Campbell says looking more like a common cold. To me looks more like allergic rhinitis. Especially with the large % increase in sneezing..Except for the absence of watery eyes. Perhaps due to changes in the covid Omicron variants?
Excess Deaths
Dr Campbell continues to question excess death numbers Which have been high. He refers to an ONS report from last December:
https://www.ons.gov.uk/peoplepopulat...land-and-wales
Not their latest report. This is what the latest report from February 2023 shows:
Excess deaths fell in February in England and Wales to be slightly below what was expected. To 7% below when the age structure of the population is taken into account (the light blue bars).

https://www.ons.gov.uk/peoplepopulat...s/february2023
Inconvenient for Dr Campbell's argument that vaccination has a role in excess deaths!
Our World in Data has also shown falling excess deaths numbers for many countries just lately.
In fact only the UK and the Netherlands had a small increase. US down 5%.
https://ourworldindata.org/excess-mortality-covid
There is a view that this was caused by an earlier influenza season and that soon excess deaths will resume to be positive.
Informative, good speech in the House of Commons to an almost empty chamber.
---
Last edited by Raffin; Mar 31st 2023 at

12:27 am

.
Apr 4th 2023, 12:00 am
BE Forum Addict
Joined: Jan 2015
Posts: 2,229
Re: NCR llockdown
---
Weekly Report
Last week's number in brackets.
DOH official case count 1,721 (1,298) up by 33% (11%)
Updated daily number count at 1,636 (1,199) ....while slightly lower increased by more at 36% (10%).
Regional % increases for new infections during the last 14 days:
NCR 25 (20)
Dav 12 (6)
NM 35 (58)
4A 13 (12)
SOCCSK 1 (2)
Seems the nationwide upturn gathering pace. Regionally led by the NCR and NM.
Deaths 58 (60)
Again no 2023 deaths announced. All were late recorded deaths from Oct 2022 back to Oct 2020.
Hospital data
New admissions 13 (10)
Admitted 347 (307)
ICU 13.7% (14.0%)
Non ICU 16.5% (16.5%)
A noticeable increase in admissions after a fall last week.
Dr J Campbell put this video out about 10 days ago. From the Australian Therapeutic Goods Administration, part of the Australian DOH. About the Pfizer covid vaccine's systemic effects in the body..
I didn't mention it at the time. Nor 3 other following videos from Dr Campbell with other people. From an abundance of caution. As he doesn't have enough medical scientific knowledge to say anything useful about this.
I was right not to!
In her latest video Dr Susan Oliver explains a number of mistakes and misconceptions Dr Campbell makes....
....this is the first of them.. Campbell always saying that an injection into the muscle of the upper arm cannot enter the bloodstream. It can. Not an easy watch and a long video but useful to go through it quickly to see some of the errors he makes. His continued reliance on people who are either retired experts or with no medical or scientific training whatsoever is worrying.
Of course the misinformation damage has already been done and Dr Campbell just moves on to put out new videos:
Do you remember having to do your corrections at school?
He reviews this WHO report where they back peddle somewhat on their previous covid vaccine advice. Though Dr John still annoyed they do not mention natural immunity.
The WHO also say something about Omicron variants:
Of interest: XBB.1.5
Under monitoring: BQ1, BA 2.75, CH 1.1, XBB, XBF, XBB 1.6 (a mix of BA 2.10.1 and BA 2.75)
In another video Dr John shows this two vertical axes WHO chart of the Pandemic. Blue line hospital admissions, yellow line deaths, purple line hospital admissions and shaded area cases.
Covid by regional WHO data. Europe getting the worst of it early on. Western Pacific, mostly China, lately.
In his latest video Dr Campbell finds some research linking Vit D with the mental health of US veterans.