NCR llockdown
Jan 17th 2023, 10:19 pm
BE Forum Addict
Joined: Jan 2015
Posts: 2,230
Re: NCR llockdown
---
Dr J Campbell back to his bread and butter topics in one of his latest videos on covid symptoms. The top 8 from those on the Zoe App in the UK, all confirmed by a positive test, are all classic common cold symptoms. Ranging from Blocked Nose at 58% down to Hoarse Voice at 42%. A big gap then down to Muscle Pains, Fatigue, Loss of Smell, Dizziness in the 21 to 25% range. Those symptoms are therefore the most common unusual features which are likely to tell someone they really have covid.
Common colds now in the UK are somewhat more common than covid. But still there are likely about 1 in 25 people there with covid now.
​​​​
​​​Unfortunately here no effort is made to update the advice on covid symptoms. The latest I can find was from May 2021 in a list of FAQs. The DOH then still touting fever as a main symptom. Difficulty in breathing emphasised. Blocked nose is less common they say. One more reason why the official numbers are low here.

Dr John has another video today about China with some more believable data from non Government sources. He predicts Chinese vaccination policies, lower level and not using mRNA vaccines, will eventually result in a low level of endemicity there. Whereas the UK will maintain a higher level by aiming to booster more. If he's right good that so far here boosters have only reached about a quarter of the population.
Jan 20th 2023, 10:12 pm
BE Forum Addict
Joined: Jan 2015
Posts: 2,230
Re: NCR llockdown
---
Not widely reported with a Presidential visit and onions in the headlines:
The Emergency Use Authorisation (EUA) only valid during the State of Calamity. Which ended on Dec 31 without any extension from the President. From what he has said lately seems he doesn't want to extend it. The DOH restricted to using up current stocks.
Selective information from Dr John Campbell: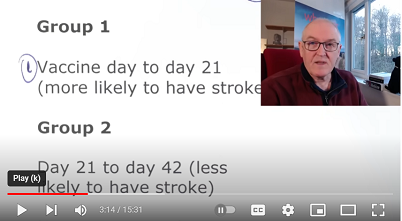 The CDC put out this very limited report on one study of strokes after bivalent covid vaccination. For transparency they said. But all it did was raise the suspicions of anti-vaxxers. A statistical anomaly the CDC said. But they should have given more detail and compared it with all their other results. Dr John agreed it was obviously a freak result but kept on about the deficiencies of that one study and didn't go on to talk about all their other evidence that getting a stroke is not linked to the vaccine...
https://www.cdc.gov/coronavirus/2019...-boosters.html
Fatal events after covid vaccination
The latest Philippine report on adverse effects post covid vaccination came out in December 2022:
There were 26 more fatal events in the month since the November report. Total now 2,786.
None of them have been confirmed by the DOH to be due to the vaccination!
Since total doses administered are now at about 170M here this works out at 0.0016%.
Breakdown of the 2,786 by age:
You can also see the latest Philippines adverse events data from a recent SS newsletter from Jan 18 "December 2022 Pharmacovigilance report...".
But beware that in another newsletter that day she also refers very selectively to the CDC stroke data.
At least in the UK there is some attempt to attribute deaths to receiving the vaccine.
Though I can only find data on the bivalent booster...the ONS recorded 51 UK deaths from about 40M doses...0.00013% The ONS says that it was the opinion of the reporter that each death was a consequence of vaccination.
In the US anyone can report fatal event to their VAERS system. So their latest figure 33,591 deaths!
Seems that finding out whether covid vaccines are linked to deaths is not seen as important. Yet it must be a big reason for vaccine hesitancy. Reporting systems are subject to both under and over-reporting criticisms. Here under reporting. If you keep up with the SS newsletters she has related some instances and reports from medical professionals to her about that.
https://supersally.substack.com/
---
Last edited by Raffin; Jan 20th 2023 at

11:07 pm

.
Jan 24th 2023, 1:20 am
BE Forum Addict
Joined: Jan 2015
Posts: 2,230
Re: NCR llockdown
---
The DOH and my Weekly Report:
Covid cases:
1891 (2934) A 36% (6%) fall on the previous week.
I've checked this from their daily reports and it tallies.
But each day Worldometers reports a revision of the DOH report for the previous day.
Last week there were 4 days with downward revisions. The largest 130.
Then 3 days with upward changes. The largest 51.
The net effect, after these daily revisions, reduces the week's case count to 1,543, 348 fewer.
Days where there is an upward revision may be those which failed to make the 4pm deadline. More difficult to explain are the downward revisions with over 100 on some days removed the very next day.
Worldometers can be assumed not to be making a mistake.So what is the DOH up to? Why don't they report the 1,543?
Embarrassed? Or they prefer the higher figure? They certainly wanted to keep the country in a State of Calamity after it expired on December 31.
What about regional and other location figures? With these large adjustments the weekly totals become inaccurate as I can't get the changed figures. But starting today I am going to supplement them with the DOH totals for infections started in the last 14 days, which I assume include the next day revisions.
Location data
Regions
NCR 591
CL 158
4A 308
WV 161
Davao 120
Other locations
Bulucan 58
Cavite 86
Manila 101
Laguna 53
QC 113
Rizal 94
As I missed one day's location data for the previous week can't make a comparison with last week.
DOH cases by estimated date of infection over the previous 14 days:
Top Regions
% falls in last 6 days
NCR 43
4A 30
CL 32
Cag 29
WV up 2%
Top other locations:
% falls
QC 36
Manila 24
Cavite 30
Rizal up 2%
Negros Occidental 116 cases yesterday No previous figure.
So large falls in the most populated NCR, 4A and CL regions.
WV to be watched.
Daily test average 10.9k,
Deaths:
104 (116)
9 January..So 31 so far this month.
1 Dec, 1 Nov.
The rest back to May 202!
Hospital data
New admissions 4 (1)
Admitted 432 (567)
ICU 16.1% (17.2%)
Non ICU 19.1% (20.0%)
General improvement in primary hospitals.
Dr J Campbell focused on UK Excess Deaths in two recent videos. In this one he presented data from the Institute and Faculty of Actuaries. 2022 deaths up on the pre Pandemic year of 2019 by 4,5%. He is most concerned that younger adults had a well above average increase.
Then soon after another video with Prof Norman Fenton, Queen Mary, London on ONS data:
Prof Fenton and colleagues are concerned about this ONS data. Published in July 2022, although data is up to May. Prof Fenton interestingly speculates on why there has been no update since July 2022. You may have seen a slightly different presentation of the same data shown below in a post I made on Jan 12.
Note that after standardizing for age related mortality the "ever vaccinated" have 957 deaths against 2,338 for the vaccinated.
The UK has a Statistics Regulatory Body and the group wrote to them with criticisms of this data.
When covid deaths 60-69 yrs are removed to look at how non covid death rates compare through time between the vaccinated and unvaccinated we see a big difference between them. And a peak in the unvaccinated line at about the time of the vaccine roll out in early 2021. Yet the lines should be roughly the same.
Prof Fenton and his group put forward two reasons for this:
1. Strong evidence that those dying shortly after vaccination were systematically not categorised as vaccinated.
This would include those termed as "moribund" patients in hospital who routinely were vaccinated in order to try not to add covid symptoms to them if they were dying.
2. Also evidence that many dying within 2 weeks of vaccination were not put down as vaccinated.
Then they give 2 other reasons:
1. The proportion of unvaccinated in the UK over 20% and not 8% as the ONS uses.
Dr John presented some estimates this from Prof Fenton back in October. Which I included in report here on October 26.
Although soon after there was some criticism of his estimates from Dr Susan Oliver.
2.
The sort of mortality rates we should be seeing in the non covid column in the ONS table. Averaging about 950.
Instead we see a range from 504 to 1,909. Obviously wrong.
Prof Fenton makes the simple, important point that if we had age related data we would have none of these problems when comparing the mortality rates of the vaccinated and unvaccinated.
In the UK we have a Statistics Regulator and Prof Fenton and his colleagues wrote to them in December 2022 about this.
An excerpt from the letter.
They replied:
Last, Dr Susan Oliver, a past critic of many of Dr John's videos in the past and who has also criticised Prof Fenton on his estimates, has just posted a video. It's not about the ONS data though one on that may come. But about some recent anti vaxxer claims.
Will post on this soon.
Jan 26th 2023, 12:41 am
BE Forum Addict
Joined: Jan 2015
Posts: 2,230
Re: NCR llockdown
---
Discussion and argument at many levels about whether covid vaccination has been a major cause of the high level of excess deaths, which has been seen in many countries worldwide. Into 2022, though so far The Philippines does not seem to be one of those with high 2022 excess deaths.. Though a caution on that because of the much delayed and inaccurate data here.
Dr J Campbell has posted several videos lately on this in the UK. Calling for a government enquiry.
The lately also on other European countries.
Then Dr Susan Oliver came out with presentations of two more studies which do not support the claims of many anti-vaxxers that covid vaccination is the main cause of excess deaths and the increase in certain illnesses.
The first study looked at UK data on people who had an early ie pre vaccination positive covid test with random selections of matched people in two control groups. One was "historical" from the early days of the Pandemic and the other "contemporary".
The people in this study were at older ages, average 66 years.
The results:
There was still a worse outcome for covid patients longer term
Do we see any differences in health outcomes between the historical and contemporary groups?
Result for post acute, but acute similar:
No significant difference between outcomes for the contemporary control group, which contains a high proportion of vaccinated and the unvaccinated historical control group.
The second study from the US state of Indiana had people 12 years of age and over, They matched nearly 286,000 pairs unvaccinated and infected to vaccinated and infected. Also matched with the characteristics at the bottom of this explanatory chart:
Indiana Study
Results:
The vaccinated (blue line) with more infection! But Dr Oliver gives some evidence that the vaccinated get tested much more and that could explain this surprising result.
How about other outcomes?:
All cause hospitalisation showed a similar result.
And when broken down by age there was a statistically significant difference for both hospitalisation and mortality in the 20-39 years age group.
Her conclusions:
1. From the first study......vaccination does not worsen health outcomes.
2. From both studies..... for adults covid leads to excess mortality even after recovery.
In contrast we see many seeing anecdotally from individual experience and talking about it or relating it to others who go public on media platforms.
Eg just yesterday from Dr John Campbell in his talk with a certain Dr Cohen:
The title of his video, which should be "management", deliberately chosen to stay safe with You tube.
As usual he hints at the possibility of vaccination adverse reactions and if you read the comments the great majority go further than hint at their culpability.
SS talks about the latest Philippines PSA update on 2022 vital statistics:
Covering several vital statistics, including causes of death:
For 2022 Sep data is only partly in and August deaths are not all in yet. Low covid deaths. The increase in Cardiovascular causes highlighted by SS.
The DOH OIC also talked about this data yesterday:
https://news.abs-cbn.com/news/01/25/...auses-of-death
Saying that it's good covid cases are well down but that Filipinos need to be advised about their lifestyles, given the top causes of death.
SS agrees with this but adds that cardiovascular and immunological impacts from the Covid Vaccination Programs should be investigated.
See her January 25 newsletter "Philippines cause of death...."
Evidence not given but in another newsletter on Jan 23 she looked at data from HK, UK, Australia and Israel to support her contention that vaccination is a main cause of excess deaths.
https://supersally.substack.com/
Jan 27th 2023, 10:57 pm
BE Forum Addict
Joined: Jan 2015
Posts: 2,230
Re: NCR llockdown
---
Dr J Campbell presenting a lot of statistics on excess deaths in Europe, N America, Australasia. Saying this data meets one of the Bradford-Hill criteria to establish causality. That is a health outcome seen in many different places. This "strongly suggests there must be a common factor..." he says. Again calls for government enquiries, especially one in the UK. At the end he gives a not so subtle hint that the, or at least a, common factor for him is vaccination. The comments on the video show that most of his audience agree.
For me all you can say from the data is that the Pandemic is the common factor.
In another shorter recent video he reports a recommendation by the UK Vaccination Committee that from Feb 12 boosters should no longer be offered to healthy under 50s. But Ist and 2nd covid doses can still be offered to anyone 5 years or older. Though these should move to a "more targeted approach" during the coming year.
Here the DOH are still pushing for more vaccination. Not taking the hint that the State of Calamity expired nearly a month ago and the President has so far not renewed it. Stopping them buying more vaccines.
https://news.abs-cbn.com/news/01/26/...alent-vaccines
BBM's priorities are obviously different from the DOH's . He wants to open up and grow the economy, especially by encouraging foreign tourism. Not putting more requirements on arrivals from China, e-extension of Asian tourists etc You can see now why he doesn't want a new DOH secretary. Given his different objectives dealing only with an OIC is much easier for him.
An IATF meeting sometime in February will look at "decoupling" restrictions from the DOH's Alert Level system.
https://www.manilatimes.net/2023/01/...-month/1875946
A few areas still have restrictions at the lower level, other areas have ignored or watered them down. The pressure from BBM on the IATF will be to reduce the DOH's control of these.
Daily case numbers for the first 4 days of this week averaging either 160 (original DOH) or 134 (revised the next day DOH).
Take your choice!
Testing at a low average of around 9k a day.
Jan 28th 2023, 10:52 pm
BE Forum Addict
Joined: Jan 2015
Posts: 2,230
Re: NCR llockdown
---
Mainly behind the scenes a bill is on its way to the Senate here which is allowing greater powers to be taken by the government in future health emergencies and could mean them having to enforce WHO recommended measures. Up to now most of the attention has been on the sections of the Bill setting up a Philippines CDC and other bodies..
https://news.abs-cbn.com/news/12/12/...ase-prevention
Although unusually the ABS-CBN report doesn't mention the concerns.
This is an on-line petition on it and at the end you will see the objections that some are voicing.
I think it is fair to say that the WHO did not come out of the last 3 years with flying colours. Their advice on the way SARS Cor 2 spreads in the air was wrong for a long time and their actions and dealings with China over air travel and virus origins.are widely criticized.
https://www.change.org/p/stop-house-...s-human-rights
Same here from another group:
https://supersally.substack.com/p/co...ant-businesses
It says: No Medical Martial Law!
Dr J Campbell back on solid ground in his video "UK data, massive shift in risk benefit analyses...".
Uses official statistics to compare hospitalization rates with the risk of adverse events from vaccination.
Rates per M for hospitalization mainly in single digits for nearly all age groups. Adverse events average over 1,000 per M.
Covid deaths in Japan top 10k per month for the first time:
https://mainichi.jp/english/articles...0m/0sc/045000c
The latest Worldometer Chart shows how out of line it is with its neighbours on covid deaths (although no China data).
Ordered by new cases. New deaths in red.
Latest Japan deaths chart..
Latest Japan cases trending down...
Explanations of the large death toll that you can find focus on care homes there. Japan does have a larger proportion of people in the oldest age groups than in most other large industrialized countries. But from the population pyramid you can see the greatest bulge is at 45-55 years of age.
Though 90+ years of age an unusually large group.
Jan 31st 2023, 2:43 am
BE Forum Addict
Joined: Jan 2015
Posts: 2,230
Re: NCR llockdown
---
Weekly report
The DOH reported 1207 cases last week (1891). So a 36% decrease.
These were their daily announced cases.
However the total of their "next day adjusted" cases was 107 lower at 1100 (1543). A lower 29% fall.
Fewer adjustments last week, but still on one day they were adjusted down from 116 to 22.
Regional Cases
By the unadjusted daily totals the NCR, 4A and CL case totals fell by 38-39% on the week.
WV was lower with a 21% fall.
By the last 14 days cases by starting date of infection, which probably gives a better indication:
The NCR, 4A and CL regions with 31-33% falls.
Again WV much lower with a 10% fall.
Other VisMin regions too low to show in the data.
Deaths 74 (106)
8 January
12 December
The rest back to Sep 2020.
Hospital data
New admissions 1 (4)
Admitted 456 (432)
ICU 14.0% (16.1%)
Non ICU 19.5 (19.1)
A mixed picture but the UCU utilization drop of 2% encouraging.
As haven't mentioned it for a while a look at official Active Cases.
Chart from Worldometers.
Less than 10k now. Although less cases have been defined as active since late 2022.
Vaccination
The DOH to receive donations of bivalent vaccines from COVAX. In 2021 the Philippines received about 5M doses of AZ vaccine from that organisation, which aims to help secure supply for developing countries. The DOH needed special authorization from the President to get and use these, they say on top priority groups. Whuch it seems they have got.
https://news.abs-cbn.com/news/01/30/...abs-from-covax
Australian Covid situation:
In a newsletter on Jan 28 SS looked at recent data from the country's statistics bureau. Australia has good statistics so it seems worthwhile to take a look. At the end of her newsletter she makes some speculative claims about vaccination based on the data. As always hinting that vaccination, at a high level in Australia, is a main factor in explaining excess deaths and covid cases.
You can read it yourself but I will summarize it here and add in some UK comparisons.
https://supersally.substack.com/
As far as covid cases are concerned Australia's have been falling recently . As have the UKs. But due to reduced testing it's not worth looking at a chart.
But excess deaths and their cause is the important issue now in Australia, and in many other countries:
2022 excess deaths well above previous Pandemic years and worryingly flat lining lately.
I went on to World in Data for covid deaths only and to add in the UK for comparison:
Covid deaths recently per M from Our World in Data.
Australia having had a peak a few weeks ago and is now trending up again.
At a larger scale to show that clearly:
Looking at vaccination given there recently:
Australian covid vaccinations per M have fallen.
Similar to the UKs.
Note Australia's program,though it started in Feb 2022, was slower to roll out.
Looking at the % of the population who have had their initial two doses WID gives:
Australia 82.7%
UK 75.2%
Australia at a higher level and it should be noted that the UK ONS has admitted to underestimating the number of the unvaccinated. That was covered in a report here last week.
So is it reasonable to suggest that covid vaccinations are themselves implicated in the excess deaths in Australia ? And in other countries? Especially those occurring over the last few months?
Possible causes listed so far for the internationally high level of excess deaths usually concentrate on the effects of the Pandemic in terms of disrupted health care, lockdowns etc.
Some well known online personalities,like Dr J Campbell, are convinced that vaccinations are implicated. Though if they are on You tube they can only hint at it. They are followed and believed by many who can be generally termed "anti vaxxers".
A recent video was put up on You Tube by a Dr Philip McMillan. Where he is from and whether he really is a medical doctor I can't find out but he seems to be linked with a group of other anti vaxxer academics and doctors.And he seems to run a medical research group. He does not make any unsubstantiated claims in it. He starts with a report on what the German Medical Minister has said recently Which was that SARS Cor2 causes "an incurable immunodeficiency"
But it should be noted that the Minister has now rowed back from that and now says it is curable!
https://newsrnd.com/news/2023-01-23-...JxWDWCoij.html
He made a mistake or retracted under pressure? We can't know which.
Dr McMillan refers to a medical research paper from 2021. That is quite a while back and it has been cited only 11 times. You might expect there to be more recent papers coming to the same conclusion and maybe more citations.Though the many authors were from China, Japan and Chile among other countries. Not from the West. That might account for that somewhat.
Dr McMillan notes that covid reduces your immunity by causing a white blood cell deficiency. Lymphopenia. Specifically reducing the important for immunity levels t cells. In the video he does not dare suggest any link to vaccination. But I did find what he thinks in this answer to a question given when he did a Q&A session:
Dr McMillan does go on to hint in the video that there might be a link from vaccination to current infection rates in the video by looking at where covid is in the world now:
Red areas show current hot spots.
We can compare that with WIDs world map of total vaccinations per M:
Surprised the UK shown as no data.
Some countries stand out as both dark green and red. Eg Japan, S Korea, Chile, one or two countries in Europe.
Then there are some darker green and red Eg USA, Brazil, Australia, China.
I expect if they had the data the UK would be included with those countries?
Though in the UK infections are at last falling from their high levels. Also in the USA.
Africa is a standout continent with low vaccination and has always had low covid rates. Experts are still looking into why. So Africa isn't supporting the argument here of vaccination causing reinfection and damaging immune systems.
Booster doses have been offered mostly in many highly of the industrialized countries to prevent serious illness and death. Also claiming to prevent transmission, although subsequent data has shown they are very poor at that.
But if the vaccines are also causing permanent damage to immune systems by encouraging re-infection then that could be another possible cause of the high level of excess deaths (not including covid) in countries like Australia and the UK. Re-infection levels have been high in many countries. You can note the difference from Dr McMillan says that the German Minister did not specify re-infection, just infection,
If McMillan is right people would have had lower immunity generally against other infections. During 2022 and likely to continue into 2023. Less seriously, weakening immunity against being only sick with covid itself.
As we saw in the chart Australian excess deaths are high and covid deaths are on an increasing trend lately. Though under Omicron covid deaths are at a much lower level than with earlier variants.
In the UK excess deaths are also high and covid deaths have only been falling slowly over the last few months. Before then in 2022 they were rising.
---
Last edited by Raffin; Jan 31st 2023 at

2:49 am

.
Feb 1st 2023, 11:18 pm
BE Forum Addict
Joined: Jan 2015
Posts: 2,230
Re: NCR llockdown
---
DOH data
SS has two newsletters lately looking at DOH covid data. She reports her and an associate's findings from downloads of daily DOH site data.
Unsurprisingly they find it overall very likely quite inaccurate.
https://supersally.substack.com/
Cases:
Showing a strange pattern for the dates of inception of the large number of asymptotic cases currently listed as "Active".
Nearly all of these should have been resolved by now. So it seems that the active total is far lower than the DOH say.
The OCTA head, Dr David Guido, reckons only about 2k now. Rather than the 9-10k listed now.
I can add in other observations on cases from regularly just looking at the daily case data on the DOH site:
The media made something of a low case count for Jan 31:
https://news.abs-cbn.com/news/02/01/...ases-on-jan-31
Yet according to Worldometers the very next day it was revised upwards to 141.
It's also interesting to monitor the DOH's cumulative case count:
For Feb 1 it was 4,073,454.
Jan 31 it was 4,073,203.
So it went up by 251 when new cases were 199.
So for some reason a net increase of 52 cases.
Last week the cumulative total went up by 876. But new cases were either 1207 or 1100....depending on whether they are using the announced or adjusted total. So over last week an overall reduction of at least 200.
Covid deaths
Not many covid deaths are confirmed quickly. That's not surprising.
My understanding is that the DOH rely on the LGUs on this. Then deaths are reviewed much later by the PSA. Looking at doctor's reports. The PSA are recognised as the authority on this by those "in the know". I recall, and reported on it in a previous post here, that back on 2021 they estimated covid deaths to be more than twice the number given by the DOH.
About 2 years ago Sen Quimbo questioned a DOH person appearing in the Senate about where covid deaths here occur. His answer was that most are not in "primary" hospitals. So here we find from SS and her associate that it's actually a very low 18.4%. My guess would be that most of the other 82% or so don't even get into other hospitals or infirmaries. They just died at home.
Even though shocking data about covid deaths has been published by the PSA it was ignored by most people in,the media and the government. The Philippines had a mild covid outbreak, a young population, got well primarily vaccinated (when they could), observed protocols to a high degree etc Yet had quite a high mortality rate. An indictment of the health system here.
The same can be said about Philippine Excess Deaths. Though with that issue the lack of interest is not confined to this country.
What can we generally say about the DOH and covid data?
1. It's generally pretty inaccurate.
2. I agree with SS that in the past cases were over reported. That could be just due to their systems and practices or you can take the view that they wanted to promote the enforcement of controls, vaccination. This may still be happening as the DOH seems to want to convince a reluctant President that covid here is still an emergency.
3. Over the years they have released less and less data for the public and media. Especially for regions. The public cannot be expected to look at the website for that. One result has been a loss of attention and analysis by the media.
4. Some useful data is available. SS complains that the daily deaths data often includes old deaths, some from 2 or more years ago. In fact the DOH do give the dates in their weekly report. But who reads that in detail? Charts showing the estimated date of infection and death are on their site daily. If you can spend the time to look.
5. Despite all that I think DOH data can give a reasonable idea of the direction of changes in the covid outbreak. Rather than reasonably accurate numbers.
This study finds good risk reduction for serious illness and death from covid if people have Vitamin D supplementation.
Does this apply to immunity against other infections? Not addressed in the video but if you look it up you see results say it generally "supports immune health".
Low Vit D is generally thought to be mainly a problem in northern latitudes. But if you're here in the Philippines and don't get out in the sun regularly you could be deficient. As it's difficult to maintain levels through diet.
Bivalent booster
From WID.
Chile leading with bivalent boosters.
Chile previously generally offered them to the over 60s. Now to the over 50s.
https://www.telesurenglish.net/news/...0112-0019.html
---
Last edited by Raffin; Feb 1st 2023 at

11:37 pm

.
Feb 4th 2023, 12:11 am
BE Forum Addict
Joined: Jan 2015
Posts: 2,230
Re: NCR llockdown
---
Excellent MedCram video. There is also a one minute PS video.
Think the evidence presented leaves no doubt that overwhelmingly the main cause of excess deaths in so many countries was the disruption to healthcare during the Pandemic.
Not a clear picture in every country though. US Excess Deaths only started to show recently and only in some age groups, Dr Seheult says. But the UK with them in all age groups. In many other European countries too.
And in addition to Long Covid the legacy of covid may well have been to reduce levels of general health overall.
So, In the US in 2021 about half of cancers than normal were diagnosed. Much worse in the UK. Also treatments such as chemotherapy were greatly rediced.. Ireland, Denmark and the Netherlands all countries with high cancer rates and high excess deaths.
Cardio vascular diseases are the most common cause of death in the US and a study with 11M subjects found that was much more likely if they had had covid. Dr Seheult's hypothesis to explain increasing excess mortality lately in N Hemisphere countries is that people are dying after being weakened by covid due to the normal effect of cold temperatures. An idea supported by excess deaths recently falling in S Hemisphere countries.
Even in the Philippines a doctor came out recently with a warning to those people with cardio vascular conditions to wrap up well during the recent cooler (70-75F!!) temperatures recently.
For the contentious issue of whether the vaccines played a part:
US data. The vaccine roll out (blue, middle graph) not coincident with an increase in excess mortality for any covid variant. Rather coinciding with slightly lagged falls.
For the earlier variants US States with higher vaccination rates had lower excess mortality. Under Omicron the fitted line for the same states was almost flat, showing vaccination had little effect.
Though vaccines may be causing long term health effects which will lead to higher excess deaths in the future. Too early to say, Dr Seheult says.
So if the claim of some anti Vaxxers, like that from a Dr McMillan, which I reported on earlier this week, is correct, that vaccines cause a permanent damage to immunity we surely should have seen many more and earlier excess deaths. As noted earlier the US only saw increasing excess deaths lately. But by August 2021 two thirds of the US population had been given one vaccine shot.
Also, some Americans have lately been dying more from other causes:
Accidents,homicides,suicides increasingly killing young Americans even before the pandemic. Though possibly then exacerbated by it?
https://www.nejm.org/doi/full/10.1056/NEJMc2215471
Are boosters worth it? This article finds they do provide a good level of protection eg a 33% increase over a monovalent booster for severe illness and hospitalization.. Include death and it was 37% better. Though these peaked at 4 weeks and waned afterwards. To be balanced against your personal risk of catching covid and vaccine side effects....
.....and for those, on cue, comes Dr John today!
From a recent press release from Pfizer. Up to now Pfizer haven't said much about adverse reactions from their vaccines.
Mentioned Japan's high recent death toll from covid in my last post. The BBC giving some background and explanation:
https://www.bbc.com/news/world-asia-64494095
.
Feb 6th 2023, 11:17 pm
BE Forum Addict
Joined: Jan 2015
Posts: 2,230
Re: NCR llockdown
---
Weekly reports

DOH

Cases

1012 (1206) A 16% (36%) fall on official totals.
For their next day revisions? The number for one day is not available from the DOH but it looks like the week's total was about 100-150 fewer at 850 -900 (1100 last week).

Regional data

Will only use the change in the last 14 day's infections over the last week from now on as daily totals are quite inaccurate, being unadjusted.

NCR -18% (-32%)
4A -33% (-33%)
WV -40% (-31%)
CL -24% (-31%)

Seems regional case falls flattened out, with the exception pf WV.

Testing down. Average for the last week 7.7k (9.3k)
Although fewer infections are being recorded the official case falls are likely indicating a fall in total infections here.

Deaths 85 (74)
22 January...61 so far for January.
5 December
The rest back to Sep 2020!

Primary Hospital data

New serious admissions 0 (1)
Admitted 388 (456)

More improvement in the medical facilities we have data for.

ICU use 14.2% (14.0%)
Non ICU 19.6% (19.5%)
But are they now starting to move covid beds to other wards?
If so this data could be somewhat misleading.








Feb 7th 2023, 10:05 pm
BE Forum Addict
Joined: Jan 2015
Posts: 2,230
Re: NCR llockdown
---
You may remember this here a few days ago:
DrJ Campbell presented an Italian study on Vitamin D and covid on Feb 1.
He said Vitamin D supplementation reduced the risk of hospital admission during the Pandemic. "72% is the probable figure, certainly substantial" he said.
You would think not if you look at the latest Dr Susan Oliver video. As I referred to Dr Campbell's video here on Feb 2 I need to put things straight.
She gives a number of reasons why the meta study Campbell relies upon is flawed.
Probably the main one is bias:
Red and yellow circles indicate degrees of bias. Only one of the 6 studies with satisfactory green bias ratings in all categories.
She also clearly shows that Dr John misrepresented what the authors of a second meta analysis paper said about vitamin D and covid outcomes.
She sums it all up by saying that people with low levels of vitamin D are likely to have less immunity to infections and to do worse if admitted to hospital for treatment. But giving large doses as a treatment does not work.
About a year ago she put up this interesting video with more details about vitamin D.
Dr John continues his interest in Vit D with a video today on diabetes:
If you're interested in this best to exercise caution given his tendency to rush out videos and not assess the papers properly. Or wait for Dr Susan Oliver!
Feb 8th 2023, 11:49 pm
BE Forum Addict
Joined: Jan 2015
Posts: 2,230
Re: NCR llockdown
---
Dr J Campbell taking exception to this WHO statement on the AZ vaccine.
The AZ covid vaccine was given to about half of UK adults for their primary doses.
Here it made up about 16% of all vaccine supplies. According to the ABS CBN vaccine tracker site:
https://news.abs-cbn.com/spotlight/m...accine-tracker
Now mainly used in India.
A BBC article gives the background to AZ:
https://www.bbc.com/news/health-60259302
Hesitancy in France and Germany due to late data about its effectiveness in adults and a link to rare blood clots in the young did give the vaccine a poor reputation in Europe. An under 40 age restriction was placed on AZ vaccs in the UK and similarly elsewhere. According to the government AZ was not chosen as a main booster dose in the UK mainly because other brands had no age restriction.
But in his video Dr John pushes the idea that the real reason for it not continued with in the UK was safety.
AZ UK This the "Yellow Card" reports and doses. Shown together using two different vertical scales.
The above as you see it in the publication. But in his presentation this larger picture was only on screen for a short time. For most of the time we saw a smaller picture like this:
Dr John did mention that there were two scales. But if you weren't paying close attention you would only see the alarming looking chart above.
He pointed to 20k adverse reactions from 3.5M doses at the coincident peak of reactions and doses. But at a later peak of 2nd doses it was about 7.5k from 2.5M doses.
Dr John did not go on to look at the same charts for other vaccines in the UK to make a comparison.
I got two more from the same site:
Pfizer
Moderna
At its peak Pfizer had about 5k adverse reactions from 1.5M doses.
Moderna a lower 2.5K from 2M doses.
It looks like AZ had more safety issues, but not as many more as on first sight taking into account the number of vaccinations.
Needs much more analysis of other issues to come to the conclusion that Dr John came to.
Eg Does this take into account the time before the age restriction when the increased blood clots were being noticed?
Unfortunately Dr John is still rushing out videos without looking properly at easily available data.
Also on the subject of adverse reactions another video came out from Dr Philip McMillan on official NZ reports. A paper sent as a pre-print to the Lancet journal.
Focuses on Acute Kidney Injury (AKI). An urgent and life threatening condition where the kidneys start to stop filtering our waste products.
AKI had an incidence of 1.6-1.7 cases per 100,000. In contrast to 5 for myo/pericarditis.
So much less but Dr McMillan says it is important to note this is the first time AKI has been flagged. Myo/Pericarditis has been known about for some time. Also there was only monitoring for 3 weeks, whereas AKI may show itself over many months.
But aren't the attention catching words "information you may not want to hear" overdoing it? A significant proportion of covid cases will also be showing symptoms to doctors after one year.
---
Last edited by Raffin; Feb 8th 2023 at

11:52 pm

.
Feb 9th 2023, 10:22 pm
BE Forum Addict
Joined: Jan 2015
Posts: 2,230
Re: NCR llockdown
---
Re the Campbell video on AZ covid vaccine yesterday I thought it useful to look at its official safety record in the Philippines.
Just bear in mind that the system for reporting adverse vaccine reactions here is likely to be much poorer than the Yellow Card system in the UK. Which itself has drawn a lot of criticism.
The Philippine's latest Pharmocovigilance report up to 30 September 2022.
Deaths are at 2,704. The DOH do not recognise any of them as due to vaccination.
From these figures AZ shots had nearly 6 times the proportion of total reports than both Pfizer and Moderna.
About 5 times for non serious, 3 times for serious.
But important to note that the DOH took account of the blood clot warnings from the UK and restricted its use to the over 60s.
https://www.sunstar.com.ph/article/1...dults-below-60
Compared to the over 40s in the UK.
Contrary to what you might think it seems that older people may get fewer adverse reactions. Due to their bodies weaker immune response:
https://www.businessinsider.com/covi...johnson-2021-4
The article lists only mild to moderate reactions. We can't tell from this whether lower reports would hold for the most serious reactions in older age groups. So the under 60 Philippine restriction may still have meant that the AZ data looked somewhat worse here compared to that for Pfizer and Moderna. But allowing for that the difference still looks significant and supporting Dr John's suspicion that AZ's safety was an unspoken consideration for it to be dropped in the UK.
India could be the place to be more definite on AZ vaccine safety as it accounted for the great majority of covid vaccinations given there.
https://www.bbc.com/news/world-asia-india-56345591
But only 772k adverse events reported up to March 2022 for such a huge population. Vaccination was late starting with older age groups prioritised at first. No concerns expressed about blood clots in the young.
Feb 10th 2023, 10:03 pm
BE Forum Addict
Joined: Jan 2015
Posts: 2,230
Re: NCR llockdown
---
Covid in the Philippines seems to be at a low level with a repeat of a post Xmas/NewYear infection case increase not seen.
But data from genome sequenced samples here in January has been reported:
https://news.abs-cbn.com/news/02/07/...nts-xbb15-ch11
This table shows,more detail:
Of most interest, given international data:
One sample of XBB1.5. a highly infectious variant which is dominant in the US. Cases there flat since Xmas but recently an uptick. Estimated at only about 11% in the UK mid January but cases have risen there since.
Three samples of CHH1.1, derived from BA2.75. Not new and one source puts it in at least 67 countries and at about 10% of world cases. Dominant in NZ, high in HK and at 11% in the UK. As XBB1.5 highly infectious but not thought to cause severe infection in most people.
These variants coming in through tourists and OFWs. mean cases here will likely soon be on the increase.
A helpful diagram from the CDC showing the generations of covid19 variants.
---
Last edited by Raffin; Feb 10th 2023 at

11:07 pm

.
Feb 12th 2023, 1:31 am
BE Forum Addict
Joined: Jan 2015
Posts: 2,230
Re: NCR llockdown
---
P scores from today's Dr John video.
As usual when he presents excess death data he drops heavy hints that the culprit for high excess deaths is covid vaccination.
Not very scientific but from Dr John's list in his video notes I chose 2 groups each of 4 European countries. One with high and the other with low excess deaths. Because not all countries have high excess deaths now. Then checked on Our World in Data.
Note: P scores, are the percentage that the difference in reported and projected deaths are of projected deaths (5 year average).
The latest P score for the high excess death countries were:
Germany 39
Netherlands 30
Denmark 24
UK 17 (I think Dr John used England and Wales)
These were the latest figures I got for Jan 23. They are mostly lower than Dr John's, by up to 7%. Denmark 4% higher.
I can't see where he got his figures from, but OWID is a complicated site.
Over the past year the P score for all these countries has got a lot worse. Especially for Germany (x2.3) and the UK (x3.4).
For the low excess death group:
Romania -7
Sweden 11
Slovakia 14
Portugal 21
My figures are from mid December. Except Romania's was from November 27.
Again Dr John's figures were different. Especially for Portugal and Slovakia where my P score was a lot higher.
Do a search and you will read that Romania's health services are in a bad state. Does that also mean that data recording is also poor? Could well be.
Dr John had it at 6%, but from the latest figures Portugal can now be seen to be a much higher excess death country. Though a year ago it had a P score of -3%. Do a search and you will find articles like these about a poor and lately deteriorating health service:
https://www.reuters.com/world/europe...es-2022-08-30/
https://www.portugalresident.com/por...tions-answers/
So what about Dr John's thinly veiled thinking that covid vaccination is a main cause?
For the high excess death group all countries had a high primary vaccination of the population percentage. Though Germany had a close to the UK's 76% vaccinated while its latest P score was more than double the UK's.
For the initially thought countries in the lower excess deaths group:
Romania 27% primary vaccinated
Portugal 87
Sweden 72
Slovakia 46
The last 3 countries with widely differing rates of vaccination but about the same latest P score for Sweden and Slovakia. We have already seen that Portugal's health service has deteriorated lately. So that could well be the factor that made its P score go up, rather than the high percentage vaccinated.
Slovakia started vaccinating at the same time as many other countries in December 2020 but less than half the population is now primarily jabbed. Two years from the start its excess deaths P score was 36% but in the last year rather than get worse as many anti vaxxers would predict this has dropped to 14%.
Last: The Philippines P score:
P score.
Our World in Data
The very high peak at the end of September 2021 is blamed by some commentators here on covid vaccination. Though death statistics are very unreliable so there could have been many more deaths caused by covid and poor health care but unrecorded. But now its latest P score is negative at -9%. Also you would think that if vaccination was a main cause you wouldn't get such a rapid drop.
At the same time many anti vaxxers also blame the more recent high P scores of some European countries on vaccinations. Although they are not given so much and covid deaths are much lower now
The data from this exercise still seem to me to indicate that vaccination is not a main cause of the recent international excess.deaths. The main causes are probably the closing down of health facilities. less diagnosis etc. Also economic effects from the lock downs etc.
As a medical practicioner DrJohn should not keep on talking about whether or not people took their statins!
He should look at the much wider medical picture during the Pandemic.