Bevs' Albatross Cam
Mar 1st 2020, 4:16 am
Re: Bevs' Albatross Cam
---
Originally Posted by
BEVS
It is one cam but sometimes it gets pointed a bit too much the wrong way so the auto focus goes to pot. I think there is a short period of close ups once a day or so.



This is where the parent allows the chick to sit out a little way by itself. It may well be in post guard stage in about a week's time. That is where both parents go out to feed.
Mostly the food is quid.
They're such good and patient parents.
I think Eggbert must be under mum's left wing, can't see him in the vicinity (and even I couldn't miss something that big!) but that wing is sitting much higher than the other. Have just spent about 15 minutes gazing at the screen, does wonders for the spirit!
Mar 2nd 2020, 10:09 pm
Re: Bevs' Albatross Cam
---
A curious juvenile last evening. The youngsters can become a bit pesky to the chicks once the chicks are post guard.
The youngster congregate to party albie style but many also visit chicks. Some are kind and some are not. Just like people.
Mar 2nd 2020, 10:21 pm
Re: Bevs' Albatross Cam
---
It does. We get the same here. Sun comes up from behind a set of ranges and sets behind a differing set of ranges. Twilight is momentary . No lengthy dusk and gloaming .
Get the sunsets though.
Mar 3rd 2020, 12:22 am
Re: Bevs' Albatross Cam
---
DoC weekly update. Not good news for the chicks. There is a stoat(s) about. Bah!
Originally Posted by DoC ranger Sharyn Broni
Today this chick is 33 days old and weighs 2.34kg at 10.55am NZT. It is no wonder that the smaller YRK is having trouble covering the chick. The heaviest chick at Observation Post Flat weighed in at 3.44kg. The Top Flat Track parents OGK and YRK are continuing to changeover regularly and we are very close to the post guard stage here now.
Check out the Track the Chicks Weight graphs on this link:
https://www.doc.govt.nz/nature/native-animals/birds/birds-a-z/albatrosses/royal-albatross-toroa/royal-cam/track-the-chicks-weight/
The growth is fast at this stage as they need a bit of weight on to see them through the winter. It is autumn in New Zealand now and the days are getting cooler.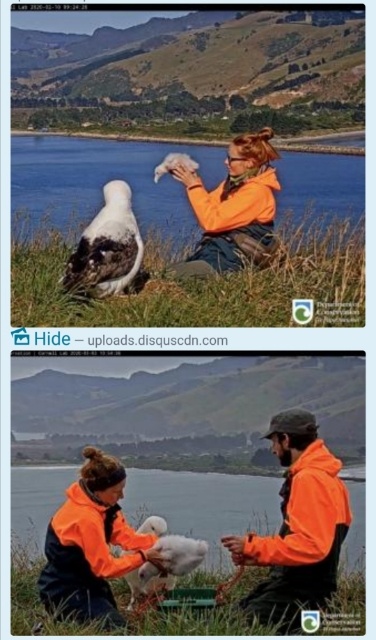 We have some sad news to share. Last week we lost a chick to predation. A necropsy was carried out and confirmed the chick had been killed by a mustelid, most likely a stoat. This came as a shock to all of us as there has not been a known albatross chick death due to predation since 1997. DOC carries out predator control at Pukekura/Taiaroa Head 365 days a year but the area is not predator free.
The chick had just gone into the post-guard stage (left alone for the first time) the afternoon before but was found dead the next morning. We have since rebaited our traps, placed a second type of bait in the traps as an additional lure and have also put out some different traps as an alternative capture method.
There are now 24 chicks on the headland.